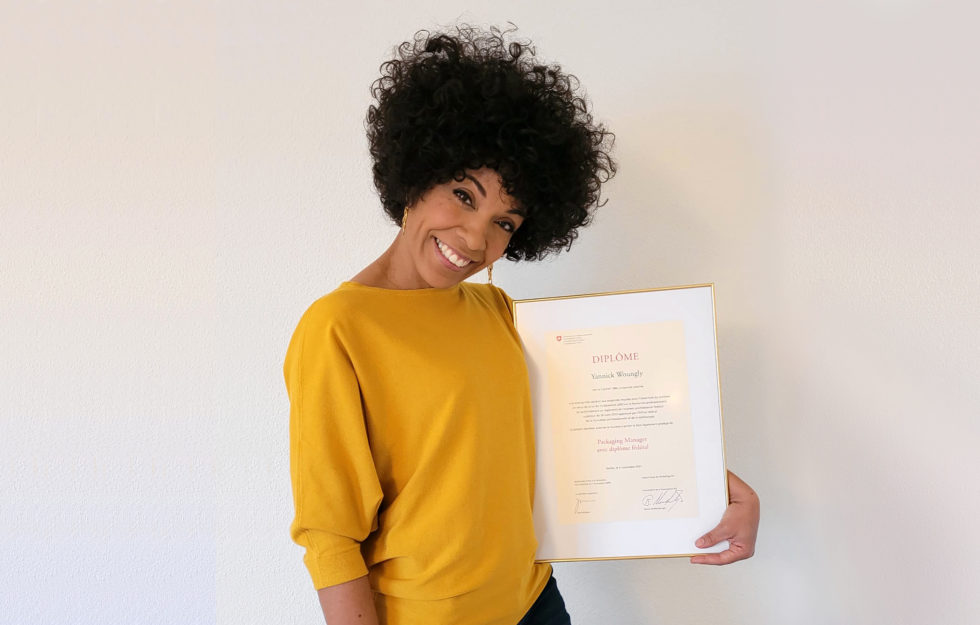 Our designer Yannick Woungly has made history in the Swiss packaging landscape by becoming the second non-German speaking person to obtain the federal diploma of Packaging Manager issued by the Swiss Packaging Institute (SVI).
Yannick Woungly completed an integrative two-year program in German. The studies covered technical and packaging-specific subjects, but also marketing, finance, project management and leadership skills. She graduated with flying colors, her grades were among the best in her class. Here is her testimonial:
"The Packaging Manager training guarantees successful interaction with professionals from many industries: it is therefore a great asset for specialists in the field. I particularly appreciated the fact that the same aspect is considered from different angles thanks to a structure by themes such as types of materials or manufacturing processes, by disciplines such as marketing or logistics and by sectors such as food or cosmetics. Within our creative agency, these new skills will enable us to offer our clients an even more comprehensive range of services, from the design of their brand image to the packaging of their products."
The Swiss Packaging Institute
The Swiss Packaging Institute represents the interests of the Swiss packaging industry, implements technology projects and offers a wide range of services, including advanced training for packaging specialists.
A positive, inspiring sign
Success stories like these are positive and inspiring signs. Proof that when you stick to your goals, you make them happen.
Congratulations!
---