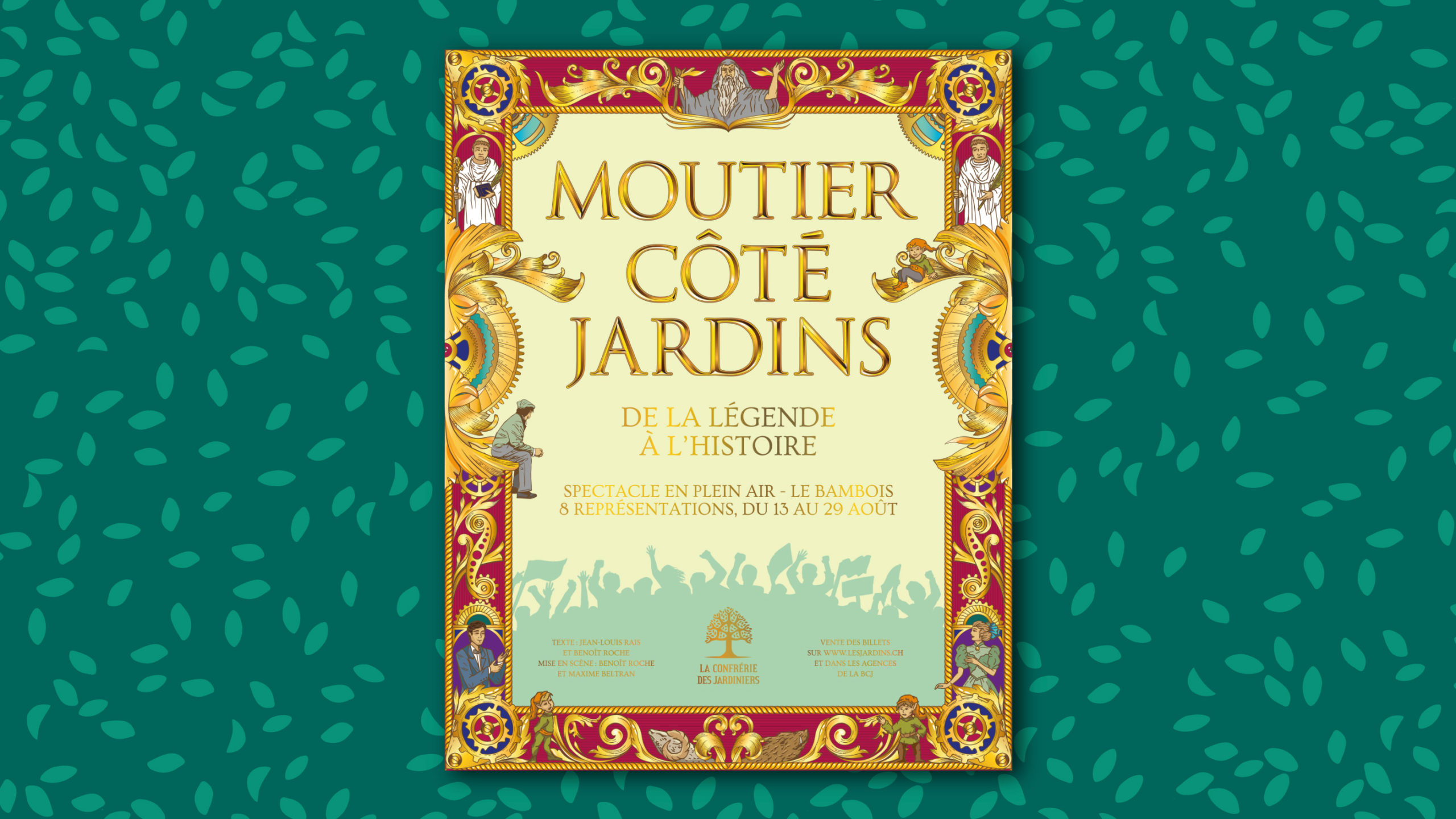 The new play "Moutier côté Jardins" produced by La Confrérie des Jardiniers will take place in August 2021. Every four years, La Confrérie des Jardiniers create a great open air show featuring nearly two hundred actors and attended by thousands of spectators. We had the pleasure of designing the poster for the next edition of the show. The design was inspired by the Bible of Moutier-Grandval and the industrial side of the city of Moutier (Bernese Jura region, Switzerland).
The Moutier-Grandval Bible
The poster's visual style (graphic, typographic and chromatic) is inspired by the manuscripts from the abbey of Saint-Martin de Tours, where the Moutier-Grandval Bible was created around 835. This Bible was the most precious relic in the treasury of the abbey of Moutier-Grandval. It is kept today at the British Library in London.
Industry and beauty
The complexity and the beauty of the decoration as well as the metallic effects used on these documents by the illuminators and copyist monks of the Carolingian period were ideal for the incorporation of decorative details evoking parts of watch movements, which represent the industrial side of the city of Moutier: for more than a century, Moutier has been a center of watchmaking and microtechnology. The union of these two universes generates interesting and intriguing associations: handcrafted and industrial, ancient and modern, mechanical and decorative…
Two levels of perception
It is often said that a poster should be simple and synthetic, but this does not always have to be the case. Above all, a poster must draw attention and generate curiosity. This one works on two levels: a glimpse at it is sufficient to convey the general idea; a closer examination will however reveal the poster's many details. Richly decorated, with all its gilding, colors, ornaments, it wants to be beautiful and captivating, just like the show that La Confrérie des Jardiniers will present next year.